FOR IMMEDIATE RELEASE
8:00 a.m. CT, Wednesday, September 21, 2016
Contact: Ed Fallon, Bold Iowa Director, (515) 238–6404 or ed@boldiowa.org
"BATs" Deploy to Block Pipeline Construction
Bold Iowa launches "Bold Action Teams" initiative
Des Moines, IA — Yesterday, Bold Iowa launched a new initiative called BATs (Bold Action Teams), aiming to stop construction along the entire length of the Dakota Access pipeline in Iowa. The first team of Christine Sheeler, Cyndy Coppola, Lisa Homann, Ed Fallon and Christine's dog Arlo blocked construction in Webster County for over an hour Tuesday morning. When law enforcement arrived and asked the team to leave, they did — and then traveled to Boone County where they interrupted construction for another 20 minutes.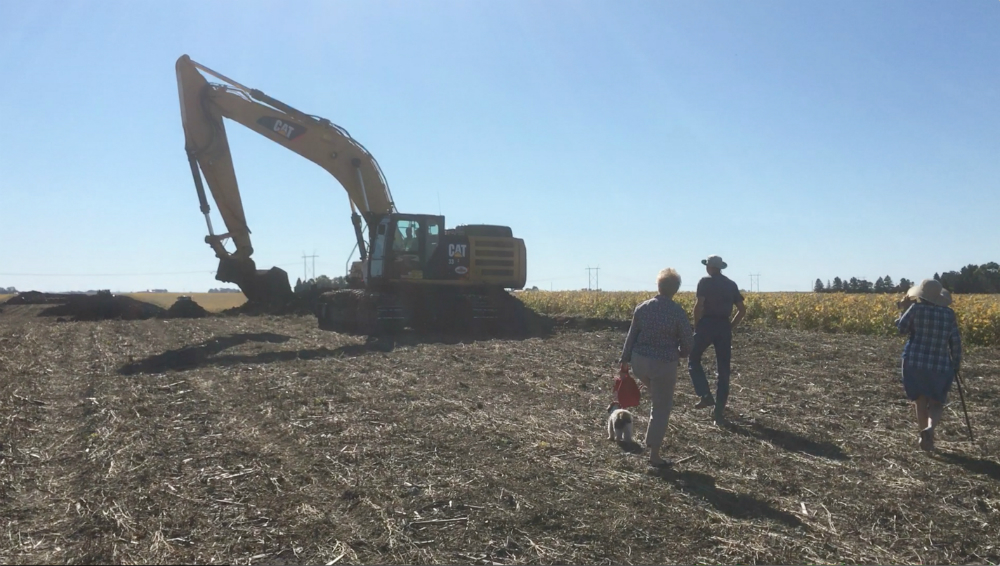 "BATs are small teams of pipeline fighters who mobilize across the state to stop construction of the Dakota Access pipeline whenever and wherever they find it," explained Ed Fallon, the director of Bold Iowa. "Yesterday marked our initial foray into this escalation of Bold Iowa's commitment to taking a peaceful, nonviolent stand against this assault on our soil, water, climate and property rights."
While adhering to the firm code of nonviolence central to Bold's philosophy, BATs are decentralized and autonomous by design. Teams deploy whenever and wherever they are inclined. When they find pipeline construction or vehicles heading to or from a worksite, they physically and cautiously block those vehicles and equipment. When law enforcement officials arrive, team members have the discretion to continue to block construction or to leave, possibly moving to another site.
"Swarms of BATs covering the state could effectively shut down construction in a meaningful, significant way," said Fallon. "If dozens and dozens of BATs step forward, we could halt construction the way Iowa farmers shut down farm auctions during the 1980s Farm Crisis, standing with their neighbors and preventing the auctions from going forward."
Earlier this summer, Bold Iowa and Iowa CCI launched the Pledge of Resistance. Over 2,400 people have signed the Pledge, committing to help stop the Dakota Access pipeline through risking arrest and/or supporting those risking arrest.
Bold Iowa is part of the Bold Alliance, building a coalition of small-and-mighty groups in rural states to fight Big Oil, protect landowners against the abuse of eminent domain, and work for clean energy solutions while empowering a political base of voters who care about the land and water.
###