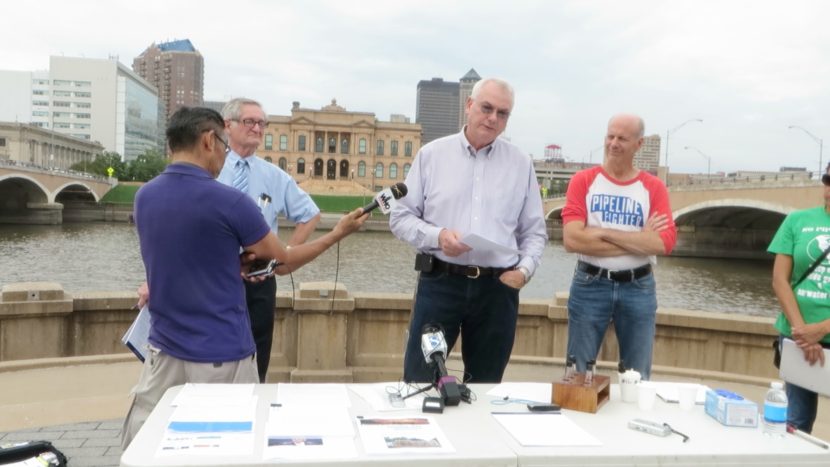 FOR IMMEDIATE RELEASE: August 29, 2016
Contact:
Ed Fallon, Bold Iowa: 515-238-6404, ed@boldiowa.org
Analysis of Bakken Oil Finds Benzene, Other Carcinogenic Volatile Organic Compounds Would Flow Through Dakota Access Pipeline
Des Moines — Bold Iowa will co-host a press conference at 10:00 a.m. on Tuesday, Aug. 30 at Simon Estes Amphitheater, to present the findings of an analysis of samples of Bakken oil for benzene and other cancer-causing compounds that would potentially flow through the Dakota Access pipeline.
WHAT: Press Conference to Present Bakken Oil Analysis
WHEN: Tuesday, Aug. 30, 10:00 a.m.
WHERE: Simon Estes Amphitheater, 75 Locust St, Des Moines
WHO: Bold Iowa's Ed Fallon; Donnielle Wanatee (Meskwaki Nation); retired farmer Tim Hooper; farmer, attorney and landowner on route Keith Puntenney
Local farmer and attorney Keith Puntenney, a landowner whose property lies on the pipeline route, and retired farmer Tim Hooper, obtained samples of Bakken oil from an undisclosed well location near New Town, N.D., which were then sent for analysis by Steve Veysey at Iowa State University's Chemical Instrumentation Facility.
Veysey's lab analysis of the Bakken oil samples found benzene, toluene, ethyl benzene and several other VOC's ("volatile organic compounds") that are known to cause cancer and other serious negative health impacts, including heart, liver, kidney and lung damage.
Speakers at Tuesday's press conference will also include Donnielle Wanatee from the Meskwaski Nation, who will address concerns of Native communities in both Iowa and North Dakota with the pipeline, and Bold Iowa director Ed Fallon, who will comment on Monday's district court decision affecting landowners who are still fighting eminent domain for the pipeline in court — and the nonviolent civil disobedience action planned for Wednesday.
"This pipeline project has been rushed all along, both by the pipeline company and by government agencies who should've been the ones doing this research, this analysis of the Bakken oil — not a landowner at his own private expense," said Ed Fallon, Bold Iowa State director. "If the pipeline is built under the Des Moines River as planned, that will be one of the weakest points, most likely places where you could see a leak in the pipeline that would unleash not only oil but potentially these cancer-causing compounds as well." 
# # #