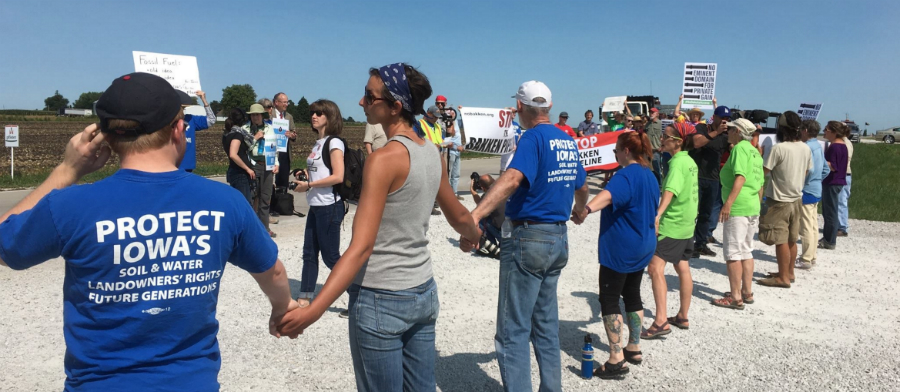 FOR IMMEDIATE RELEASE: September 1, 2016
Contact:
Ed Fallon, Bold Iowa: 515-238-6404, ed@boldiowa.org
Adam Mason, Iowa Citizens for Community Improvement, adam@iowacci.org
Mark Hefflinger, Bold Alliance: 402-577-0315, mark@boldalliance.org
30 Iowans Arrested in Boone County During Peaceful Demonstration Against Dakota Access Pipeline and Risks to Water

First of series of direct actions planned by organizers of the "Bakken Pipeline Pledge of Resistance"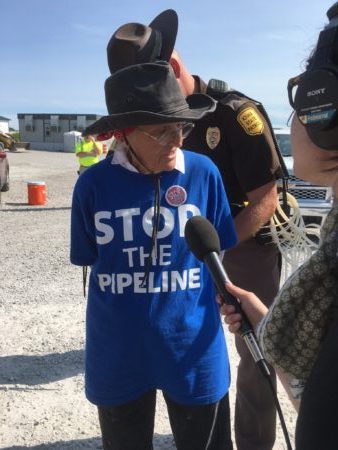 Boone County, Iowa — Thirty Iowans were arrested on Wednesday afternoon while participating among a crowd of 150 in a peaceful, nonviolent act of civil disobedience as a message to President Obama to revoke Army Corps permits and halt construction of the Dakota Access "Bakken" pipeline that is using eminent domain for private gain and threatens our land, water and climate.
MEDIA: Download photos for use with credit to Bold Iowa:
https://drive.google.com/folderview?id=0B6nlAycyvqx9amp3bVpKNVh4aUk&usp=sharing
"The voices of landowners, farmers, tribes and environmentalists fighting this illegitimate pipeline were heard loud and clear across the country yesterday," said Ed Fallon, state director for Bold Iowa. "With Dakota Access moving aggressively to build the pipeline while ignoring landowners' concerns, and the concerns of the Standing Rock Sioux, more and more people are standing up to stop this pipeline. We expect an even bigger turnout this Saturday than we saw for the first action."
Hundreds have signed on to risk arrest, and more than 1,550 citizens have pledged volunteer and financial support for direct actions to halt construction of Dakota Access, via the pipeline Bakken Pipeline Pledge of Resistance — organized by Bold Iowa with partners Iowa Citizens for Community Improvement (ICCI), CREDO Action, and the local group 100 Grannies for a Livable Future.
(View the Bakken Pledge of Resistance: http://bit.ly/bakkenpledge)
On Monday, Aug. 29, Dakota Access filed for a restraining order against Bold Iowa and director Ed Fallon, and Iowa CCI and state policy director Adam Mason — asking a judge to prevent our organizations from participating in First Amendment-protected speech and peaceful assembly, and nonviolent civil disobedience actions that are a time-honored American tradition for effecting social change.
But on Tuesday afternoon, federal Judge Rebecca Goodgame-Ebinger denied Dakota Access's motion for a temporary restraining order. (Read the ruling here). The citizens arrested during Wednesday's action were charged with (simple trespassing…), and were cited and released on the site of the action, [description of action location].
Wednesday's action was just the first in a series of actions planned in Iowa to activate signers of the Bakken Pipeline Pledge of Resistance. Additional direct actions will take place in coming days and weeks.
"Heroic grassroots activists are stepping up and putting their bodies on the line to stop the Dakota Access Pipeline," said CREDO Deputy Political Director Josh Nelson. "The threats this pipeline poses to our air, our water and our climate are simply too great to allow its construction to move forward," he continued, adding, "we won't stop fighting until the Dakota Access Pipeline meets the same fate as Keystone XL."
"Every day the resistance to these kinds of fossil fuel projects is growing – here in Iowa and across the country. We are committed to doing everything within our power to leave this oil in the ground and turn the corner for a 100% renewable future that sustains our people, our communities, and our planet," said Adam Mason, State Policy Director at Iowa Citizens for Community Improvement.
"100Grannies for a Livable, Fossil Free Future are standing up for the rights of landowners, all Iowans, Tribal treaty rights, and the rights of nature. And, of course, we stand for the rights of all future generations of all species. As Ansel Adams said: 'It is horrifying that we have to fight our own government to save the environment.' "
# # #