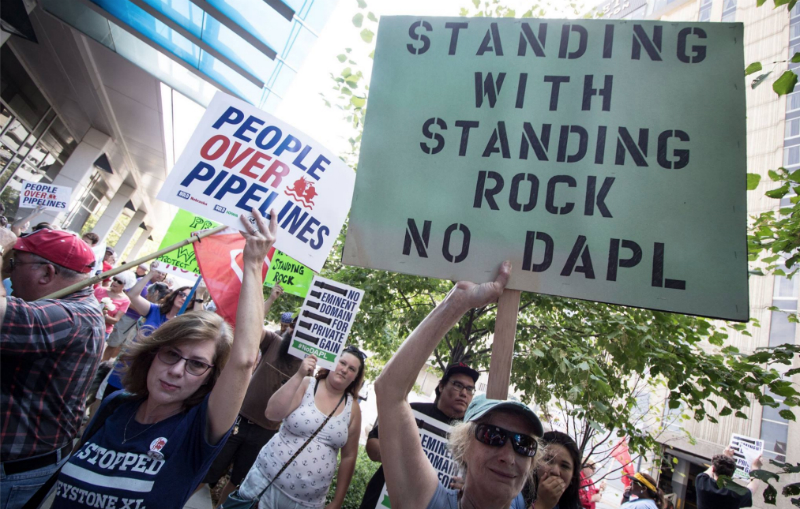 The sad news is that oil may soon flow through the Dakota Access pipeline. But there are several silver linings in that dark, oil-soaked cloud.
First, the lawsuit filed by Iowa landowners against the abuse of eminent domain is on its way to the Iowa Supreme Court. In a recent Radio Iowa story, the attorney for the plaintiffs, Bill Hanigan, said "if eminent domain was improper, then all of the condemnation easements are invalid. If the condemnation easements are invalid, then that pipeline and all of the crude oil in it is trespassing."
And what is the legal remedy to someone or something trespassing on your property? Removal! If the court rules in favor of the landowners, Dakota Access should be required to tear out all that pipeline and find an alternative route. It's important to support these brave landowners, so stay tuned for more on that.
The other silver lining is that President Trump is indeed making America great again. It is so uplifing to see how many new people are getting involved in the fight to defend justice and our environment against the full-frontal assault led by Pres. Trump and the corporate crocodiles he's let into the swamp he promised to drain.
One example? The great work being done by Kelly Quinn, Jenny Miller, Shelley Buffalo and others with the Meswkaki Nation. They've organized the RISE WITH STANDING ROCK NATIVE NATIONS RALLY – IOWA this Friday at 12:00 noon at the Iowa State Capitol. Please come support them — and deepen your own commitment to push back against state and federal actions whose real motive is to turn over more and more of our rights and tax dollars to the corporate oligarchy that has bought and paid for too many politicians.
Here's the press release Bold Iowa sent out today. The original release can be viewed below. Please share it!
Ed Fallon