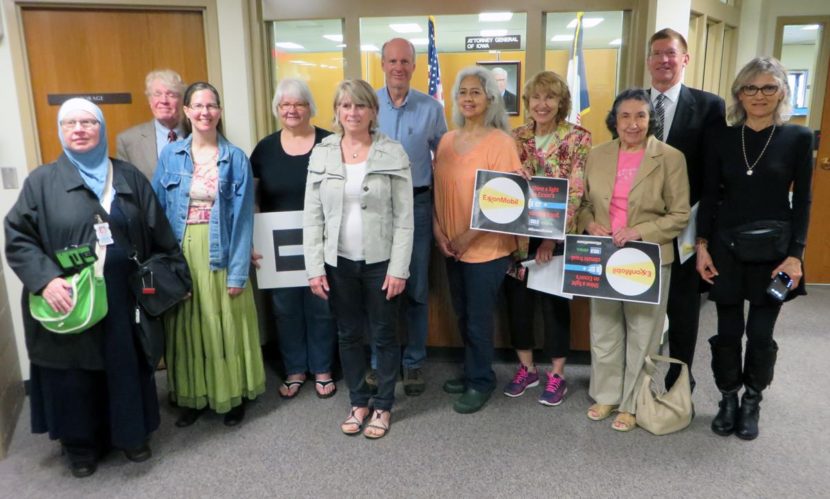 FOR IMMEDIATE RELEASE

10:00 a.m. CT, May 24, 2016
Contact: Ed Fallon, Bold Iowa director, (515) 238-6404 or 
ed@boldiowa.org
Petition signers to Miller: Investigate Exxon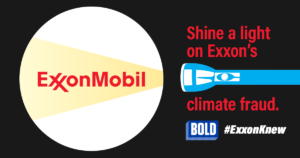 Des Moines, IA — On Wednesday, May 25, Bold Iowa and Iowa 350 will deliver petitions signed by over 1,000 Iowans to Iowa Attorney General Tom Miller, encouraging him to look into allegations that Exxon lied about climate change, thus violating the public trust.
According to a report by InsideClimate News, Exxon worked "at the forefront of climate denial. It put its muscle behind efforts to manufacture doubt about the reality of global warming its own scientists had once confirmed. It lobbied to block federal and international action to control greenhouse gas emissions. It helped to erect a vast edifice of misinformation that stands to this day." [Exxon's own research confirmed fossil fuels' role in global warming, September 15, 2015]
"Like Big Tobacco, Exxon knew about the connection between their product and the public's health," said Bold Iowa director Ed Fallon. "Exxon chose to lie about that connection and needs to be held accountable. From the perspective of an attorney general, charged with being the chief legal advocate of the public good, this investigation is about consumer protection, about holding corporations accountable. Over the years, Miller has done an admirable job in that capacity, and we need him to rise to the challenge again."
Bold Iowa is part of the Bold Alliance, which grew out of Bold Nebraska's successful fight against the Keystone XL pipeline. Bold is building a coalition of  "small and mighty" groups in rural states to fight Big Oil, protect landowners against the abuse of eminent domain, and work for clean energy solutions while empowering a political base of voters who care about the land and water.  Besides Iowa and Nebraska, Bold efforts is operating in Louisiana and Oklahoma.
###