Wednesday, April 26 – Sully to Reasnor (10 miles)
We scramble out of our tents early today for the ride to Des Moines for Donnielle Wanatee's trial. She was arrested for trespass at Governor Branstad's office during the February 22 Day of Action Against DAPL. Donnielle pled "not guilty" and asked for a jury trial. The judge denied her request. Nevertheless, she persists.
It's a miserable morning. The wind and rain make it impossible for our cook, Chap Myers, to keep the stove lit. Some marchers opt for a cold breakfast. Most of us end up at the Coffee Cup Cafe across the street, grateful that it opens at 6:00. With the cumulative exertion of four days of marching, my caloric output has surged to that of a college athlete. I order the menu's largest breakfast, which finds its way into my fuel tank faster than civilized dining standards allow.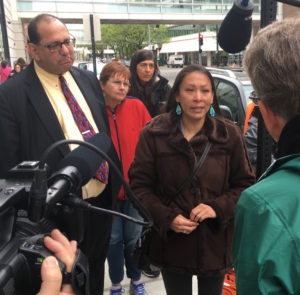 Today, we're an organized, efficient group and arrive on schedule at the Polk County Justice Center. When I enter the court room, Donnielle is already testifying. She comports herself with clarity and dignity. Jon Neiderbach, an attorney who marched with us for two days, represents Donnielle pro bono.
The trial is quick and predictable. The judge praises Donnielle's commitment to clean water but finds her guilty of trespass. She wants a jury trial, but the judge had previously cited a procedural nuance that denies her this right. With Jonathan's help, she appeals the judge's ruling, insisting on her right to a jury trial. I'm proud of both her and Jon. It's a great start to the day, and we haven't even marched a step.
By early afternoon, we're back in Sully to begin the day's 10-mile trek. The rain's stopped, and we again carry the American flag at the front of the march column. Isidra and Annie lead the way, taking turns as flag-bearer.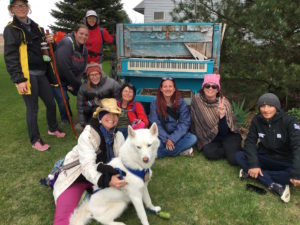 Three miles from Reasnor, we meet Lois and Irving Vander Leest. Their farm is on the path of the pipeline, and it's here that construction equipment was torched by an arsonist last August.
The Vander Leests strongly support the pipeline. Lois assures me she's had no trouble with either the pipeline company or the workers. I'm candid with her about my opposition, based on concerns about climate, water and the abuse of eminent domain. We concur that arson is inexcusable, and she and Irving agree to join us for dinner tonight at the United Methodist Church in Reasnor. Before we set out from the Vander Leests' farm, we pose for a picture in front of a piano cleverly repurposed as a lawn ornament.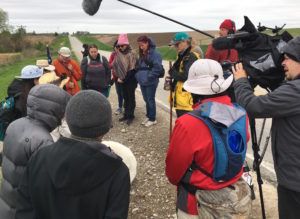 Two miles from Reasnor we cross the pipeline. The scar from last year's construction is still visible. We pray. Donnielle offers tobacco. It's a solemn moment. I think of the 570,000 barrels of oil a day that will soon move through the ground under our feet. I remind other marchers that, despite the imminent flow of oil, if the lawsuit by nine Iowa landowners prevails, it could require that the pipe be removed, forcing Dakota Access to attempt a lengthy and complicated reroute.
Reasnor is a town of 153 people, and everyone we meet is friendly and helpful. The Methodist Church, with a congregation of eight parishioners, opens its doors to us for food and lodging. After dinner, some of us wander down to the D & T Tap, where Zach Ide, Heather Pearson and I break out our guitars. I play The Proclaimers' I'm Gonna Be (500 miles) and solicit a rousing response from the locals. Perhaps they appreciate the challenge of walking a long distance for an urgent cause. Perhaps I'm just making that up.
But one thing I know for certain: This march is connecting us in ways that we — marchers and locals alike — rarely experience. It's easy to stay in one's own social, cultural and online bubble. This march pushes us beyond that bubble and out of our comfort zone. It pushes us to confront the truth that their is no us vs. them. There is only we.