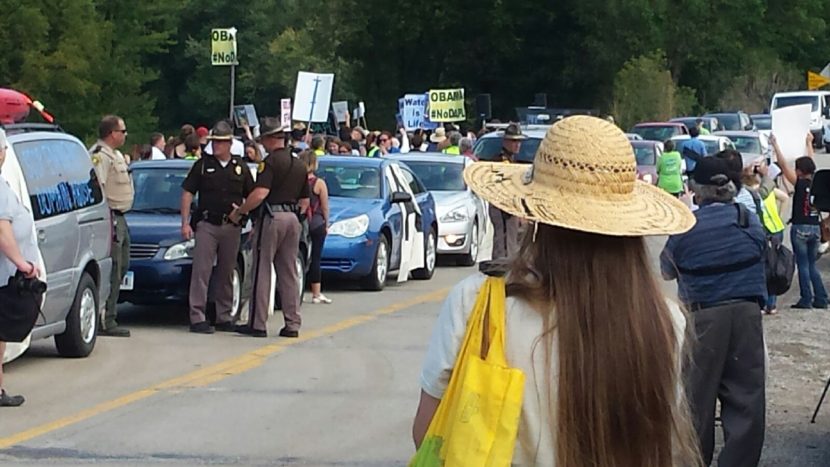 FOR IMMEDIATE RELEASE
Thursday, September 22, 2016
Contact:
Adam Mason, adam@iowacci.org, (515) 314-2655
Ed Fallon, ed@boldiowa.org, (515) 238-6404
Midwest Mobilizes to Demand Obama Stop the Dakota Access Pipeline
Allies, tribes, farmers, and landowners from around the Midwest converged in Boone County, Iowa, on Thursday to show continued resistance and demand Obama stop the Dakota Access Bakken Pipeline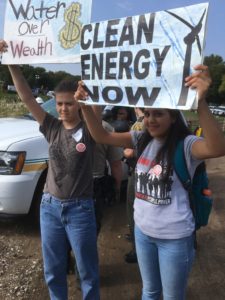 Des Moines, IA – On Thursday afternoon, 175 water protectors – including tribes, landowners, and farmers – converged in Boone County, Iowa, for the Midwest Mobilization to protest the Dakota Access Bakken Pipeline and blockade a construction site where Dakota Access is currently drilling under the Des Moines River. In attendance were allies from around the Midwest, including Illinois, Minnesota, and South Dakota.
A 60-car caravan traveled from the Boone County Fairgrounds to an active construction site where Dakota Access is boring underneath the Des Moines River near Pilot Mound, IA. Twelve vehicles parked in front of an access road on 130th Street preventing trucks from entering and exiting the construction site.
Protestors highlighted the direct action protest was to put pressure on the Obama administration to step in and halt construction on the pipeline, as he has in North Dakota.
"I don't want my job to be part of fossil fuel extraction. We need to keep fossil fuels in the ground, and that starts with stopping the Bakken Pipeline. That's why I'm here today, and that's why my car is in this line blockading this project," said Ross Grooters, a union member and locomotive engineer from Des Moines. "Obama, you have the power to stop this pipeline. You have the power to make the Army Corps of Engineers do the right thing."
"We're here on this beautiful day protecting our land, our water, and each other. We're also here to send a powerful message to President Obama, the Army Corps of Engineers, and our officials to stop this pipeline once and for all," said Alexa Rodriguez, a high school student from Des Moines.
Others at the rally highlighted ongoing construction violations being committed by Dakota Access.
"I was at a construction site on our family farm last week after a 2 ½" rain, and Dakota Access was digging. Their tires were spinning in the mud, and water was dripping from the soil. According to their own agreement with landowners, they are not to be working the soil if it's too wet. I want to know why we are we paying a $200 ticket when this company is violating its agreement with landowners all across the state and paying nothing," said Julia Slocum of Ames Iowa, who was part of the car blockade.
"Water is life, but politicians don't see it as such in Flint, in North Dakota, in South Dakota, in Iowa, or in my city of Chicago, where we have toxic lead pipelines that no one is fixing. We must send a strong message to all our politicians and our president that water is sacred," said Joe Padilla, an organizer for The People's Lobby and Illinois Student Action in Chicago, Illinois.
"I've been fighting this pipeline for 2 ½ years with no recognition from the U.S. Army Corps of Engineers. We've never been contacted by them," said Donielle Wanatee, a member of the Meskwaki Tribe and Thunderclan. "I'm standing up because of this water. All human beings, all life, all minds, all children, all land depends on water. I'm asking the governor: why won't you protect us and our water?"
Members of the Oceti Sakowi in South Dakota also traveled to Boone County in solidarity with Iowans.
"Over a hundred years ago, the Oceti Sakowi bands were separated, and now we're united in solidarity again at Standing Rock. We know that we are needed here in Boone, too, as part of the Oceti Sakowi," said Sylvana Flute.
The Midwest Mobilization hosted three workshops in the morning at the Boone County Fairgrounds on 1) the need for a Just Transition to clean energy, 2) non-violent civil disobedience, and 3) landowner resistance.
Construction of the Dakota Access Pipeline is nearly complete in South Dakota and Illinois. Iowa and North Dakota are the only two remaining states where construction work is still underway.
Last week, the Obama Administration asked Dakota Access to voluntarily halt construction of the pipeline within 20 miles of Lake Oahe in North Dakota. At Thursday's Midwest Mobilization, Iowans and Midwest allies called upon Obama to take it a step further and halt pipeline construction permanently in Iowa.
A growing number of organizations, landowners and everyday citizens across the state are committed to stopping the proposed Bakken Pipeline alongside the Bakken Pipeline Resistance Coalition. Visit www.nobakken.com.
Bold Iowa is part of the national Bold Alliance, now in five states and building new alliances to fight fossil-fuel infrastructure expansion projects and promote renewable energy. Visit www.boldiowa.org.
Iowa CCI is a statewide, grassroots people's action group that uses community organizing to win public policy that puts communities before corporations and people before profits, politics and polluters. CCI has been fighting to put people first for 40 years. Visit www.iowacci.org.
###