FOR IMMEDIATE RELEASE: Dec. 15, 2016
Contact:
Ed Fallon, Bold Iowa: 515-238-6404, ed@boldiowa.org
Jane Kleeb, Bold Alliance: 402-705-3622, jane@boldnebraska.org
Pipeline Opponents Rally in Des Moines Following Court Hearing for Landowners' Arguments Against Eminent Domain for Dakota Access
Landowners on pipeline route challenging eminent domain authority; Sierra Club Iowa Chapter challenging Iowa Utilities Board decision on eminent domain
Des Moines — Bold Iowa and coalition partners today stood in court with Iowa farmers and landowners who are challenging the granting of eminent domain authority to seize their land against their will for the Dakota Access pipeline.
Following the hearing, over 120 Water Protectors marched from the Polk County Courthouse to nearby Cowles Commons for a rally and press conference.
WATCH: Video from the march from the courthouse to the Rally and press conference: https://www.facebook.com/iowabold/videos/vb.476720482532745/605388732999252
"Regardless of how the Judge rules today, we continue to see more and more people stepping forward to challenge the misuse of eminent domain. Big Oil and this pipeline company have tried hard to intimidate farmers and landowners, and as we've seen today, many refuse to back down, refuse to be pushed around," said Ed Fallon, Bold Iowa director.
"This eminent domain case is way bigger than just this pipeline," says Steve Hickenbottom, a Jefferson County farmer and one of the landowners in the lawsuit. "It is an abuse of power that will have a lifetime of consequences. If they get away with this, the ride is just starting. Anyone could be next, and I do mean anyone. If our legal system and the Army Corps and any other government power cannot stop Dakota Access, then what really is next? How do you wield enough power to get law enforcement to come in against peaceful people and do what they are doing to them? The best thing we have going for us is our Tribal allies coming together and showing the rest of us what you have to do to get something stopped."
Jasper County landowner Kathy Holdefer adds, "The outcome of this case will set a precedent for eminent domain use in the future. If this private company, whose product merely flows through our state only to be put on the market for sale to the highest bidder, is considered a 'public necessity and convenience,' think of who else could come after your land for a project that they can claim is good for Iowa, when really, it's just good for their profits."
"Eminent domain for private gain is abused by Big Oil, and farmers end up paying the price," said Jane Kleeb, Bold Alliance President.
Landowner plaintiffs in the case include Cyndy Coppola of Calhoun County, who was arrested on her own land for which eminent domain authority is still under judicial review in this case.
Landowners' complaints of violations by Dakota Access construction workers are documented by Bold Iowa here:
https://boldiowa.org/2016/10/05/iowa-landowners-document-construction-violations-by-dakota-access-pipeline
The District Court also heard Sierra Club Iowa Chapter's challenge of the Iowa Utilities Board's decision to issue a permit for Dakota Access to construct a hazardous liquid pipeline across Iowa.
Sierra Club's attorneys argued that Dakota Access did not show that the pipeline was necessary to serve the public; the impacts to the environment and the dangers of oil spills are reasons that the permit should not have been granted; and the IUB ignored the impacts of climate change.
# # #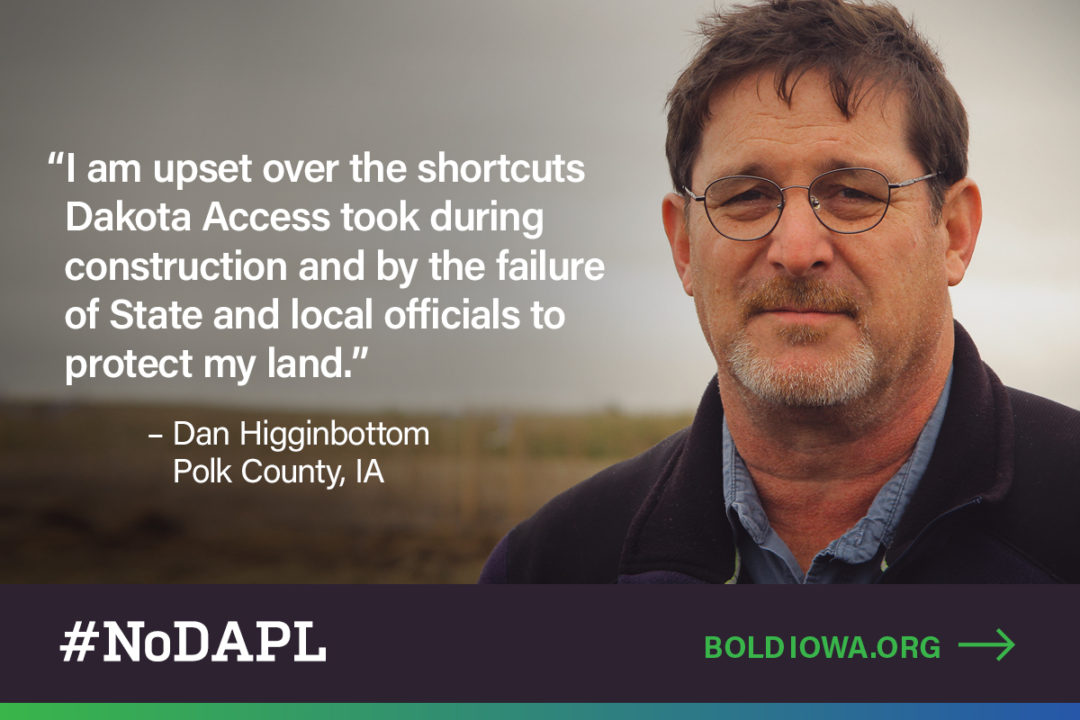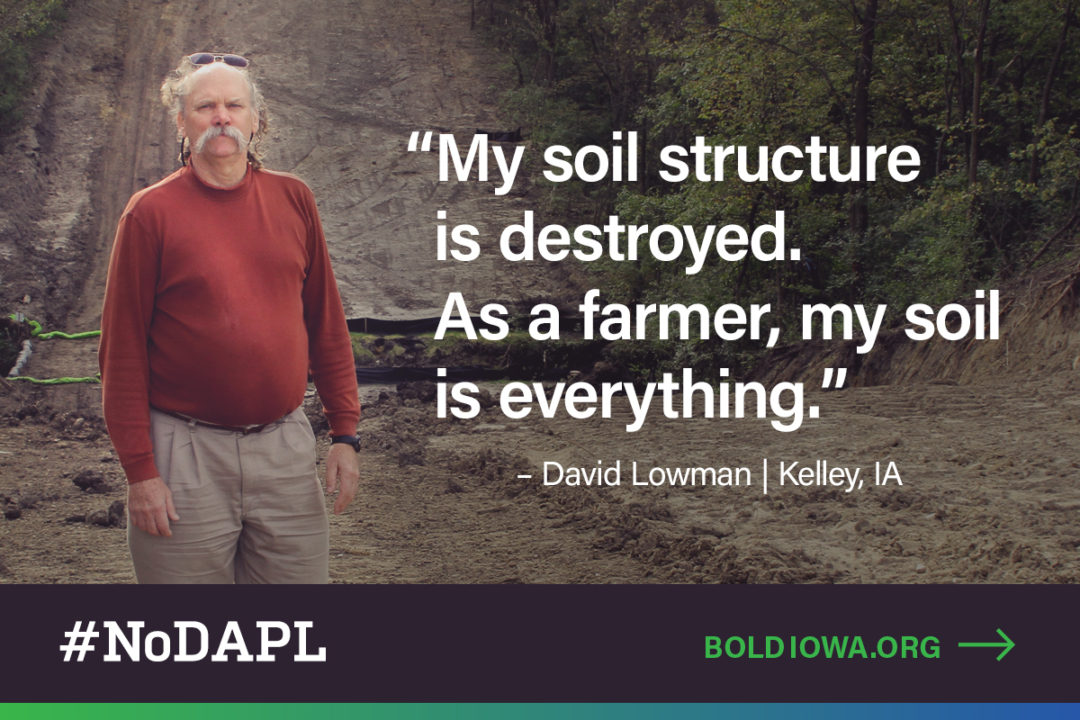 WATCH: The Des Moines Register visits the #FarmersDefenseCamp: