Sunday, April 23 – Deep River to Montezuma (10 miles)
As we circle up this morning and prepare to leave Deep River, a man driving an ATV pulls up. He introduces himself as Darrin Ehret — the guy next door who put up the Confederate flag yesterday. He was surprised at how quiet and respectful we were last night, and that inspired him to come over. Based on the things he'd heard on Facebook, he was expecting all kinds of noise and bad behavior.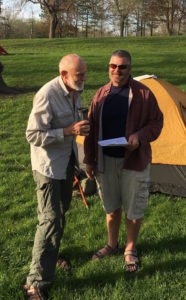 "I put up that Confederate flag not as any kind of political statement, but as an expression of freedom of speech," he admits. "We heard a lot of bad things about Little Creek Camp, mostly on Facebook, and that flag and the American flag were just my way of saying we didn't want any flag burning. So I'm sorry I did that."
We ask about the loud noises that we assumed were gunshots. "Those were M-80s [firecrackers]," said Darrin. "We think it's a guy down the hill who's been setting them off. We don't like it either."
We delay our departure to talk with Darrin. "For my part, I apologize for assuming the noises were gunshots and for calling the Sheriff on you," I say. "I made my own assumptions, and I'm sorry about that."
Darrin's a died-in-the-wool conservative, but agrees strongly with us that water quality is a huge problem. He's not sure about the causes of climate change, but he's a big supporter of wind energy and has agreed to have a turbine installed on his farm this fall. I tell him we have a wind energy expert, David Osterberg, joining us tonight, and I invite him and his wife to our camp at Diamond Lake.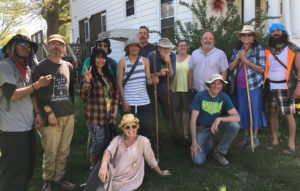 It's another perfect day to march. But as we enter Montezuma, we crave shade. We pass a yard with a large, inviting maple tree, and I ask the owners, Jack and Kim Higginbottom, if we can rest in their shade for a bit. They're very accommodating, and before long, they offer their spacious porch, drinks and their bathroom. Jack and Kim understand the urgency of climate change and are delighted we're marching. We invite them to join us for dinner, too.
Tonight's campsite is perfect. We're on Diamond Lake, surrounded by trees and sloping hillsides. There are picnic tables, a fire pit and hot showers. (Our solar showers are warm, but not hot.) As we get ready for dinner, Darrin, his wife Molly and a friend named Casey show up. Molly brings brownies fresh out of the oven.
Later, Jack and Kim join us, along with three young guys from Montezuma. One of them explains that everybody in the area has been following what's going on at Little Creek Camp and most are against it. "But I kind of go my own way," he says. "I thought I'd come and check you out. And yeah, this is great. What you're doing is totally chill."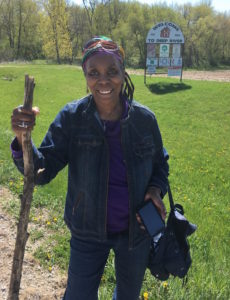 I ask him to tell his friends. "If any of them want to walk with us tomorrow, we'd love that. And we'd love to have you and them join us at our camp in Searsboro tomorrow night."
Cynthia Hunafa shares her feelings as an African-American about the Confederate flag, and Molly responds: "We're not racist, and didn't mean to imply any hatred toward anyone — Black, Native, Latino. It's more about how safe someone looks to approach. If I saw you and Casey (who sports a scruffy beard), I'd think you were a lot safer than him." We all get a good laugh out of that, including Casey.
We talk with our guests for a couple hours over a wonderful dinner of Chap's corn-vegetable-ham soup and Donnielle's fry bread.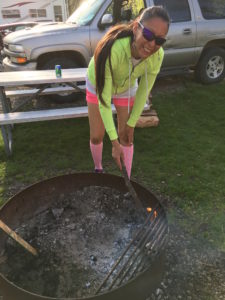 Toward sunset, four Native men show up. They'd heard about the problems marchers were experiencing, and wanted to come and show their support and solidarity. Our guests from Deep River and Montezuma talk with them as well, further extending the bridge that Darrin started building when he showed up at our camp this morning.
The evening ends with many of us sitting around a fire, talking and singing. One of our marchers from Little Creek Camp, Madu, turns forty today, and Heather and Jessica present him with a birthday cake. Another marcher from Little Creek, Fernando, sings and plays the drum in a tribute to Madu. He talks a bit about the important work we're doing.
Yes, the weather was perfect today. Even more perfect was the fellowship. This is why we march.