Friday, April 28 – Prairie City to Pleasant Hill (14 miles)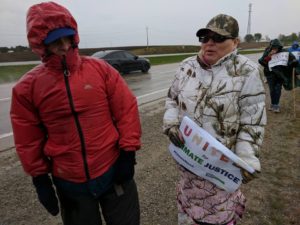 Today promises to be the most difficult of the March: 14 miles in cold, rainy weather along a busy four-lane highway. We're soaked both from above and below, as trucks barreling along spray us when they pass. It's a testament to the commitment and perseverance of our group that ten marchers make it every step of the way in such conditions.
At our rest stop at the 5.2 mile mark, we decide to break into two groups — one fast, one slow. We've stuck together as one marching column the entire week. But now, we face the reality that some of our group have to go slowly to be able to make the distance, while some of us have to move quicker if we're to stay warm enough to avoid hypothermia.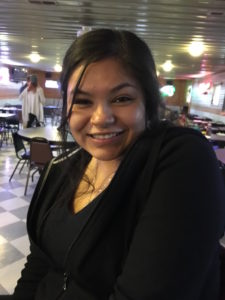 Isidra Borjas is one of our younger, faster marchers. She's from Ft. Madison and says she appreciates the age and cultural diversity of the March. She's Mexican-American. Her Dad is from Mexico. On her Mom's side, she's fourth generation American.
"You've got me beat by two generations," I tell her. "My Dad's parents came over from Ireland in the 1920s."
Isidra felt inspired to join the March because "we all have to take care of our home. Yet I was surprised that some people we met along the way weren't kind at first. I was under the impression that everyone in rural Iowa was nice."
Isidra is one of four women who took turns carrying the flag when the weather allowed. "I always associated the flag with rednecks who drove big trucks. Now, after seeing how the flag was carried during our March, I see it as our flag. I'm an American as much as anyone else. For me, it was really empowering as a minority and a female."
Another impressive young marcher is Annie Casey. "Seeing the creative energies and common cause that came out of Standing Rock inspired me to get involved with the March," she says. "I was drawn to the possibility of listening to and talking with people who speak a very different language on climate."
As a native of Colorado, Annie was caught off guard by the weather. "I was surprised at how tough Midwesterners are. But it was amazing to be part of something with such good intentions and so well organized, and yet incredible to see how it was spun against us. That often happens when a volatile issue enters the cybersphere. But when we met with people along the way, the experiences were powerfully positive. You can never make that connection online."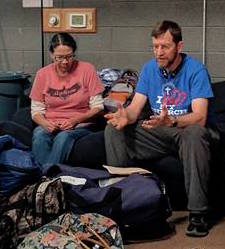 That truth was again realized at our overnight stop in Pleasant Hill, at Rising Sun Church of Christ. The Church had originally said we wouldn't be able to camp there. But through the kindness of one of the church elders, Chuck Hurley, who I served with at the Iowa Statehouse, marchers were allowed to cook, sleep and meet inside the church.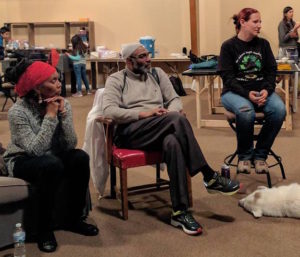 Chuck and Pastor Steve Rowland took time to talk with us during our evening forum. We were also joined by Cynthia Hunafa and State Rep. Ako Abdul-Samad. Steve is a hunter and very concerned about the environment. Chuck's policy focus is kids. He admits he hasn't thought much about climate change. But I sensed that as we talked, he understood how climate, too, is an issue of great importance to our children and their future.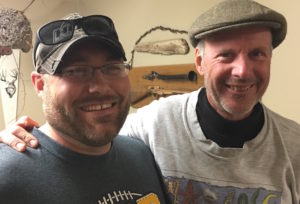 Our visit opened the door to continued dialogue. If climate environmentalists and conservative Christians can meet and find common ground, I see hope for the future of our country and our planet.