WATCH: Bold Iowa nonviolent action to stop construction on Dakota Access on Iowa farmer Shirley Gerjets' land on Oct. 29, where eight Water Protectors invited onto Shirley's land were arrested.

FOR IMMEDIATE RELEASE: Nov. 9, 2016
Contact:
Ed Fallon, Bold Iowa: 515-238-6404, ed@boldiowa.org
Iowa Woman Arrested Stopping Dakota Access Construction on Iowa Landowner's Property Taken by Eminent Domain to Plead "Not Guilty," Citing "Climate Emergency" Justification for Trespassing
Bold Iowa's "Farmer Defense Camp" was established with permission on eminent domain holdout landowner Shirley Gerjets' property, a first of its kind in Dakota Access pipeline fight
Rockwell City, IA — Heather Pearson, a resident of Logan, IA and Water Protector who was arrested in October 2016 during a nonviolent action to stop construction on the Dakota Access pipeline on Iowa farmer Shirley Gerjets' property, will plead "not guilty" to charges of trespassing in Calhoun County court on May 24.
Pearson will argue in court that a "climate emergency," outlined in a document signed by 188 Iowa climate science faculty from 39 institutions from all over the state, justified her action to stop construction on the pipeline that threatens our land, water and climate.
[The arrestees intend to offer expert testimony from one or more of the Iowa climate science faculty to support the climate-emergency justification defense. ??]
Under Iowa state law, "justification" is a valid defense to charges of trespassing.
All of the Water Protectors arrested on Oct. 29th were invited on Shirley Gerjets' property with express permission, in the form of a written affidavit from Shirley. In addition to Pearson, two other Water Protectors intend to plead "not guilty" to trespassing charges stemming from the Oct. 29 action, and have pending court dates in Calhoun County (Emma Stewart, of Rockwell City, IA; and Mahmud Fitil, of Omaha, NE).
Meanwhile, the Dakota Access pipeline workers and private security personnel were on Shirley's property only by power of eminent domain — an authority which Shirley is still mounting a legal challenge to, along with other landowners. Shirley also had "No Trespassing" signs posted on her property that expressly forbade Dakota Access on her land.
The court will be tasked with determining who is the victim of "trespassing," when a landowner is actively challenging eminent domain authority granted for a pipeline easement, and yet her expressly invited guests are arrested and charged with "trespassing" on the same land where eminent domain authority is still under judicial review.
Several of those who were arrested appeared to have been physically detained not by Iowa State Patrol, Calhoun County sheriff's deputies, or other law enforcement, but rather by men wearing yellow jackets believed to be private security hired by Dakota Access Pipeline.
Were these private security "deputized" by Calhoun County law enforcement, the state of Iowa, or some other authority to detain citizens? The court must determine on what authority these security personnel were acting, and whether their actions constituted false imprisonment.
"In Iowa, eminent domain has always been intended strictly for public purposes," said Bold Iowa director Ed Fallon. "And in 2006, during my last session as a state lawmaker, House and Senate members voted overwhelmingly to further strengthen eminent domain law, in response to the 'Kelo' U.S. Supreme Court ruling. Given that amended law, I think this lawsuit makes a powerful case that Dakota Access violated the law. Those of us invited onto the land by the property owner have every right to be there."
(View the Bakken Pipeline Pledge of Resistance: http://bit.ly/bakkenpledge)
# # #
Iowa Climate Statement 2015 Time for Action
WATCH:
Shirley Gerjets signs affidavits expressly inviting Heather, Emma and Mahumd onto her property, and states that Dakota Access construction workers are in fact trespassing without permission on her land.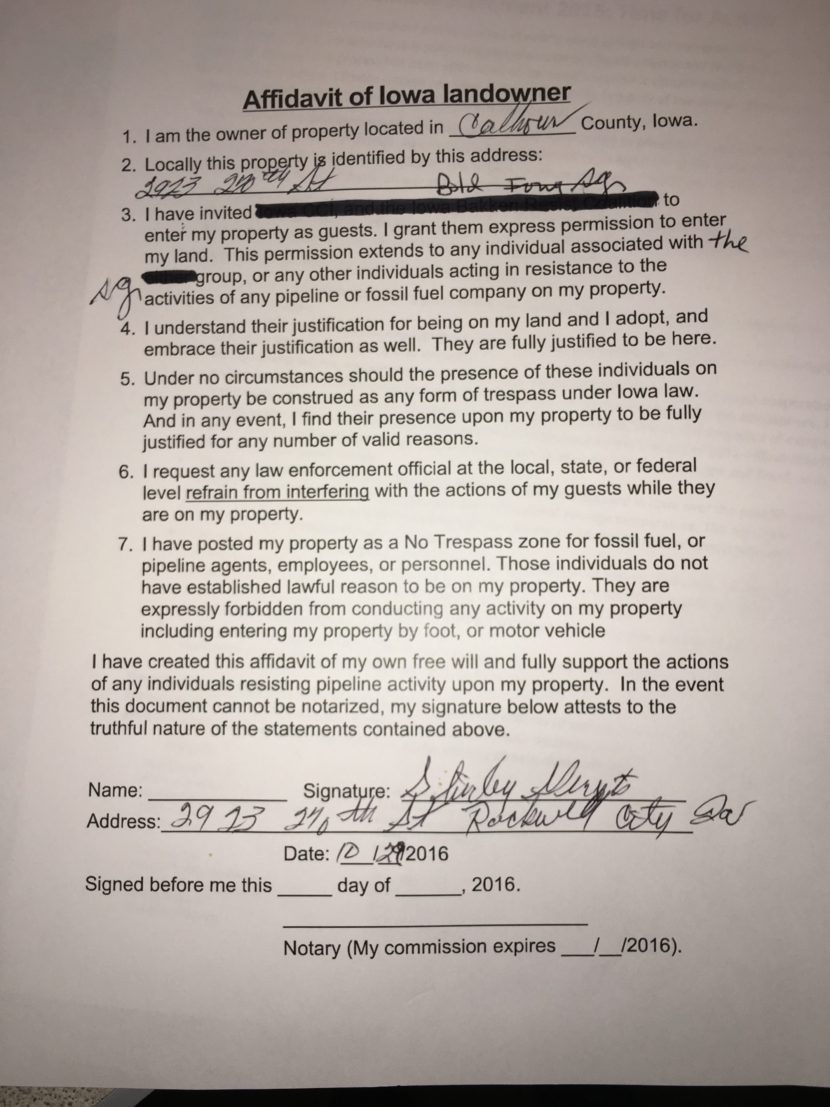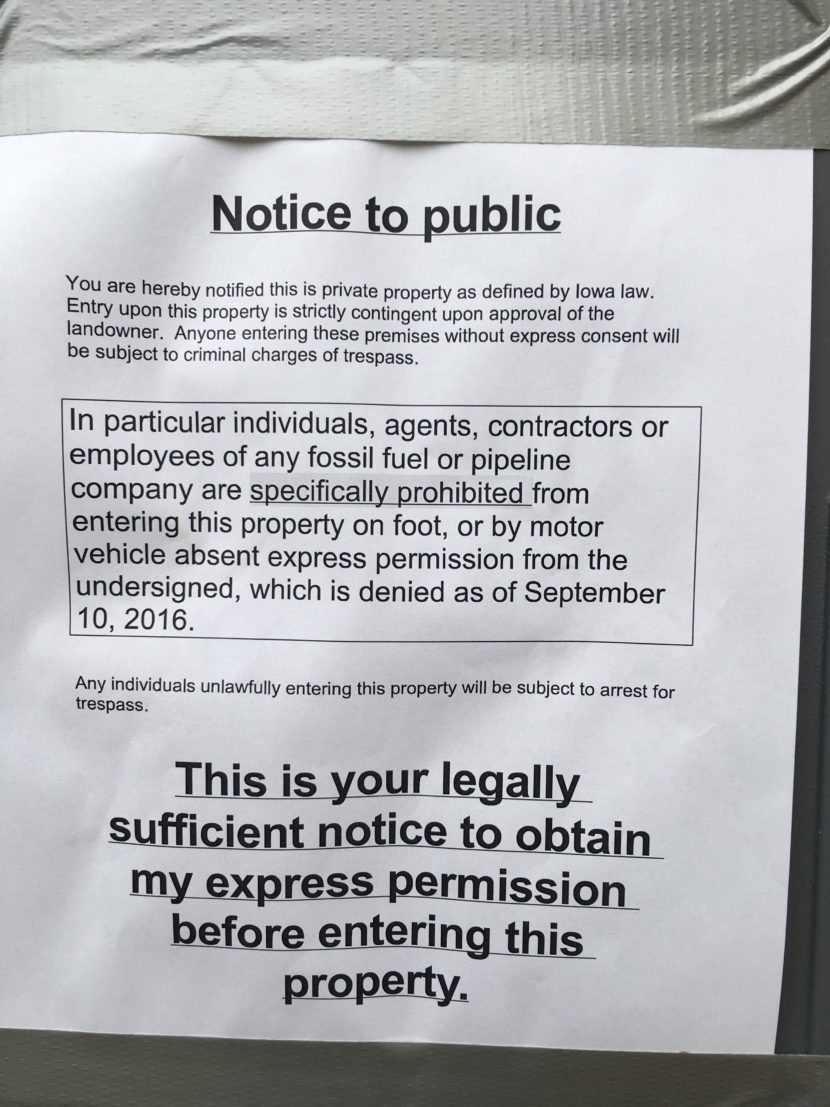 WATCH: The Des Moines Register visits the #FarmersDefenseCamp: 
WATCH: WHO-TV covers the #FarmersDefenseCamp and interviews Shirley Gerjets.