Recently, Heather Pearson was contacted by a former DAPL contractor, who said to her: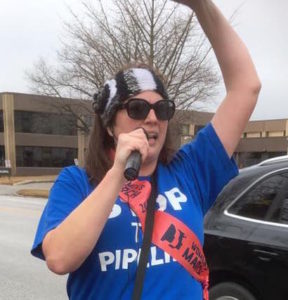 "I have the highest respect for what you and others are doing to protect the environment. Truth be told, I really had no idea about the concerns involving the pipeline, or knew much about it at all. Boy, was I in for a shock!
"Regarding Dakota Access, I've never had a position working for such a morally bankrupt entity. I struggled with it everyday. You always hear about corruption in large corporations, but when I witnessed it firsthand…WOW!
"When my contract ended, I was so relieved to be out of work. I did get to meet a lot of wonderful people over the course of my contract. I also learned a great deal about DAPL and how they do business. Like I said, I have the highest respect for you and others like you. Keep up the good work! Keep up the fight! You have support in unlikely places!"
Heather's conversation, and the fact that the contractor reached out to her, is nothing short of amazing.
The contractor also told Heather that DAPL was so concerned about our "BATs" — the Bold Action Teams we mobilized last fall to stop construction — security formed special units to respond to the BATs. How's that for validation that our efforts were effective!
In sharing this story, Heather writes: "Once people realize that this is just a corrupt, private corporation that wants to ship its toxic sludge to the export market via our farmland and watersheds, people tend to oppose the project. We must keep up the fight. We must continue to spread the message. We must take time to talk to people and combat the mountains of disinformation out there. We have to make our voices heard. It works!"
Heather's story is a reminder that everything we do makes a difference. It's also a reminder that, in the spirit of nonviolence, we must always show kindness and respect toward workers, law enforcement and security personnel.